Geanne van Arkel (head of Sustainable Development at Interface), Jaap Petraeus (Manager Corporate Sustainability at FrieslandCampina) and Marlijn Simons-Somhorst (Manager Corporate Responsibility & Relations at Lidl the Netherlands) are nominated for the title of 'CSR Manager of the year 2018'. An expert jury selected them from a shortlist of 10 candidates who received the most votes out of 475 CSR managers.
The election is organised by CSR consultancy firm Sustainalize together with partners Moonen Packaging and Sustainable Talent. On November 8, the winner will be elected from these three nominees at the National Sustainability Congress.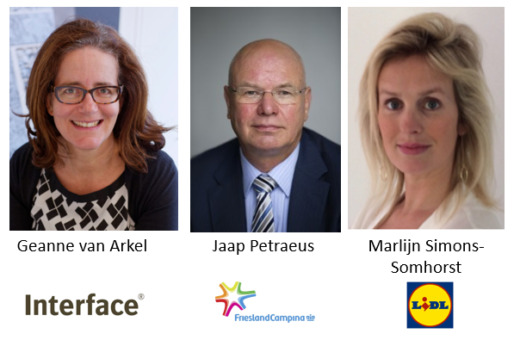 The jury says the following about the nominees:
Geanne van Arkel: Geanne is authentic. For many years, she has been using her experiences at Interface to be a leader in putting sustainability on the agenda in many different places. Her mission to work on a sustainable world is above the direct interests of her employer. She works on the content, picks up new developments and methodologies and connects them to new insights and projects. Anyone who speaks with Geanne, can count on a positive contribution and new ideas. People describe her as an inspirator and connector.
Jaap Petraeus: During his many years at FrieslandCampina, Jaap has managed to implement a robust sustainability policy that is secured, also for the coming years. Sustainability is now rooted in the core of this large international company. Jaap is also the driving force behind the development of an international sustainability standard for the global dairy sector. He is persistent and shares his experiences with various platforms in the Netherlands and abroad.
Marlijn Simons-Somhorst: Marlijn is ambitious, inspiring and a real go-getter. Together with her colleagues at Lidl she works on often eye-catching sustainable activities. Lidl the Netherlands has already won several awards in the field of sustainability. She works both on a more sustainable range of products and business operations. She knows how to combine sustainability with the competitive market of supermarkets focused on low prices.
Previous winners of the 'CSR Manager of the year' were successively Annette van Waning (Vebego), Anniek Mauser (Unilever), Carola Wijdoogen (NS), Birgitta Kramer (Vitens) and Tanja Roeleveld (Landal Greenparks).
Voting opened for the final
Subscribers of the newsletter of Online Kenniscentrum Duurzaam ondernemen (www.duurzaam-ondernemen.nl) will soon be invited to cast a vote for one of the nominees. Their vote will account for 60 percent of the final vote. At the National Sustainability Congress on November 8, the largest annual conference in the field of CSR and sustainability, visitors will also vote for their favorite candidate. This accounts for 40 percent of the final vote.
The CSR Manager of the year 2018 wins, in addition to the goblet, an all-included weekend for two at  the Zonheuvel country estate in Doorn.